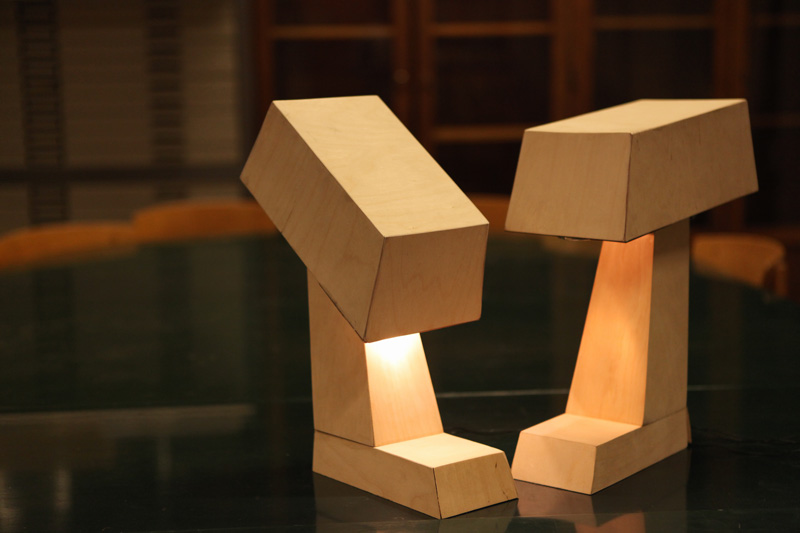 With Ulrik Hogrebe.
Desk Mates are interconnected lamps capable of conveying a number of emotions through action and movement. Born in pairs, the lamps are meant to connect colleagues and friends working remotely and alone, offering a humorous and light way of showing your over-worked colleagues that you care.
Stroking the base of the lamp provides soft feedback through light intensity that someone is thinking of you. A "professional" knock triggers subtle movement in the opposing lamp, maybe signaling a query or a reminder. Slapping or repeatedly toying with the head of the lamps triggers erratic and violent movement in the other lamp, forcing your colleague to react, readjust his lamp, maybe slap it back, take a break etc. Despite their obvious limitations, we quickly discovered that through sheer playfulness, the lamps are in fact able to convey more than just light.
The lamps were born out of twin inspirations. Firstly we observed how people obsessively check Facebook accounts and e-mails, keep each company over Skype and generally display an enormous need for social contact while working at home – what we described as a need for "ambient sociality".
Secondly, the lamps are a design-led enquiry into what colloquially might be termed the language of "the internet of things". Can objects convey emotions? Can they offer us a rich means of communication? How would people overcome these limitations through for example improvisation? Which forms and affordances are appropriate? When does an "intelligent" object fit naturally with its typology? When does it become something else?
Using these inspirations as guidelines, we prototyped an enormous amount of shapes for the lamps navigating between extremes of overt functionalism and the overtly cute. Actions were prototyped, and acted out as were different ways of interaction – from the professional, to the caring to the downright annoying. Finally we settled on the lamps current form – cute yet not out of place in an office nor in a home environment.